THE BARREL TELLS YOU WHEN IT IS READY,
AND THE BARREL IS NEVER WRONG.
---
STIEFEL'S SELECT PREMIUM WHISKEY
Single Barrel & Small Batch Whiskey Program
---
Since 2012 Heritage Distilling Co. (HDC) has been making a variety of spirits for the public. During this time, our distillers were quietly waiting for our specialty spirits to age without public fanfare. After all, the barrel tells you when it is ready, and the barrel is never wrong.  
We are excited to share the results with the world under a new brand Stiefel's Select - named after our founders, Jennifer & Justin Stiefel. Each edition is hand selected from only the best barrels of our aging spirits. 
Stiefel's Select spirits are created with each step intentionally executed; grain selection, mash style, fermentation control, method of distillation, selection of barrel type and aging conditions. All steps in the process were performed in-house, from grain to glass, by the talented team at Heritage Distilling Co. 
---
---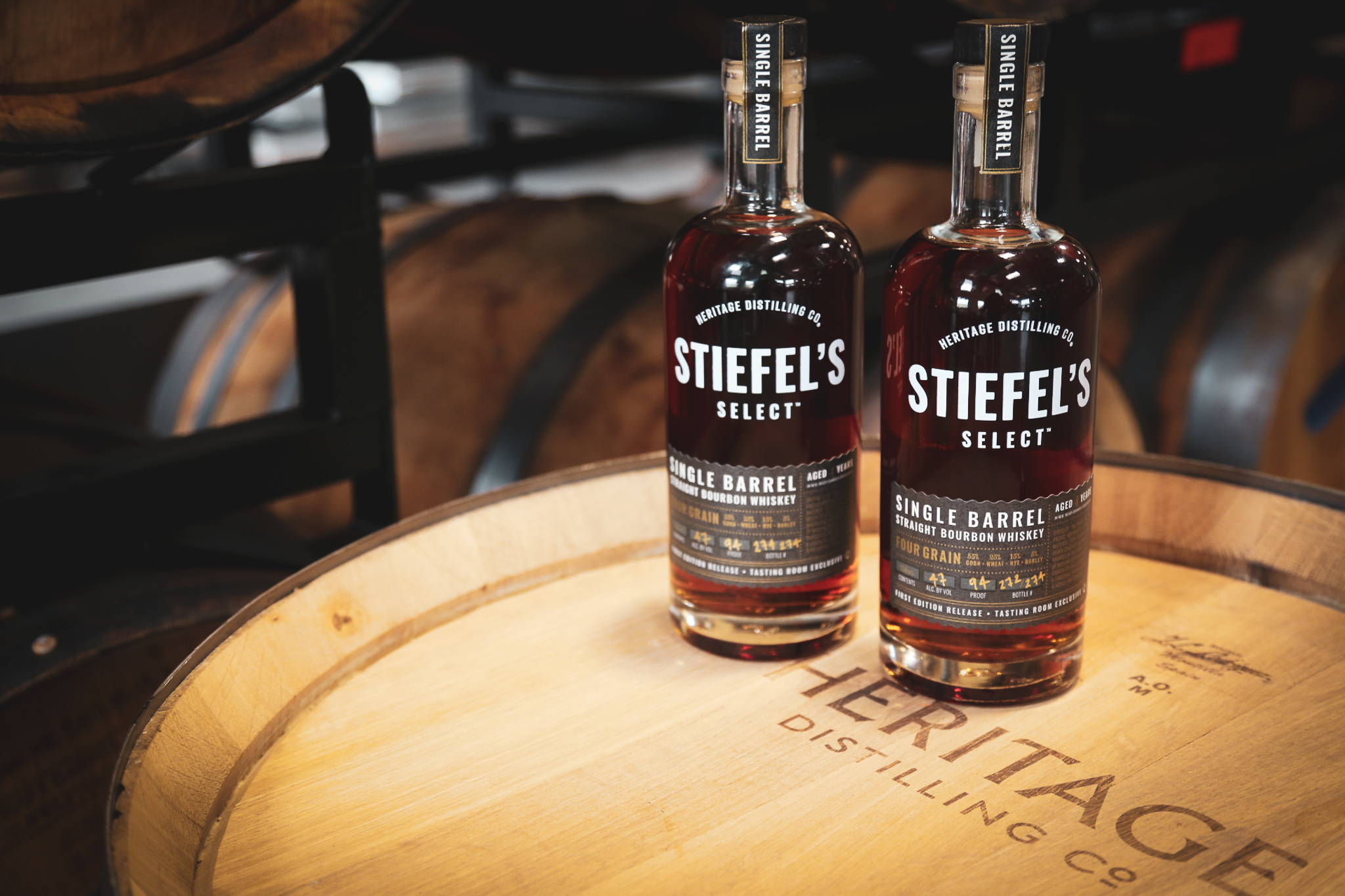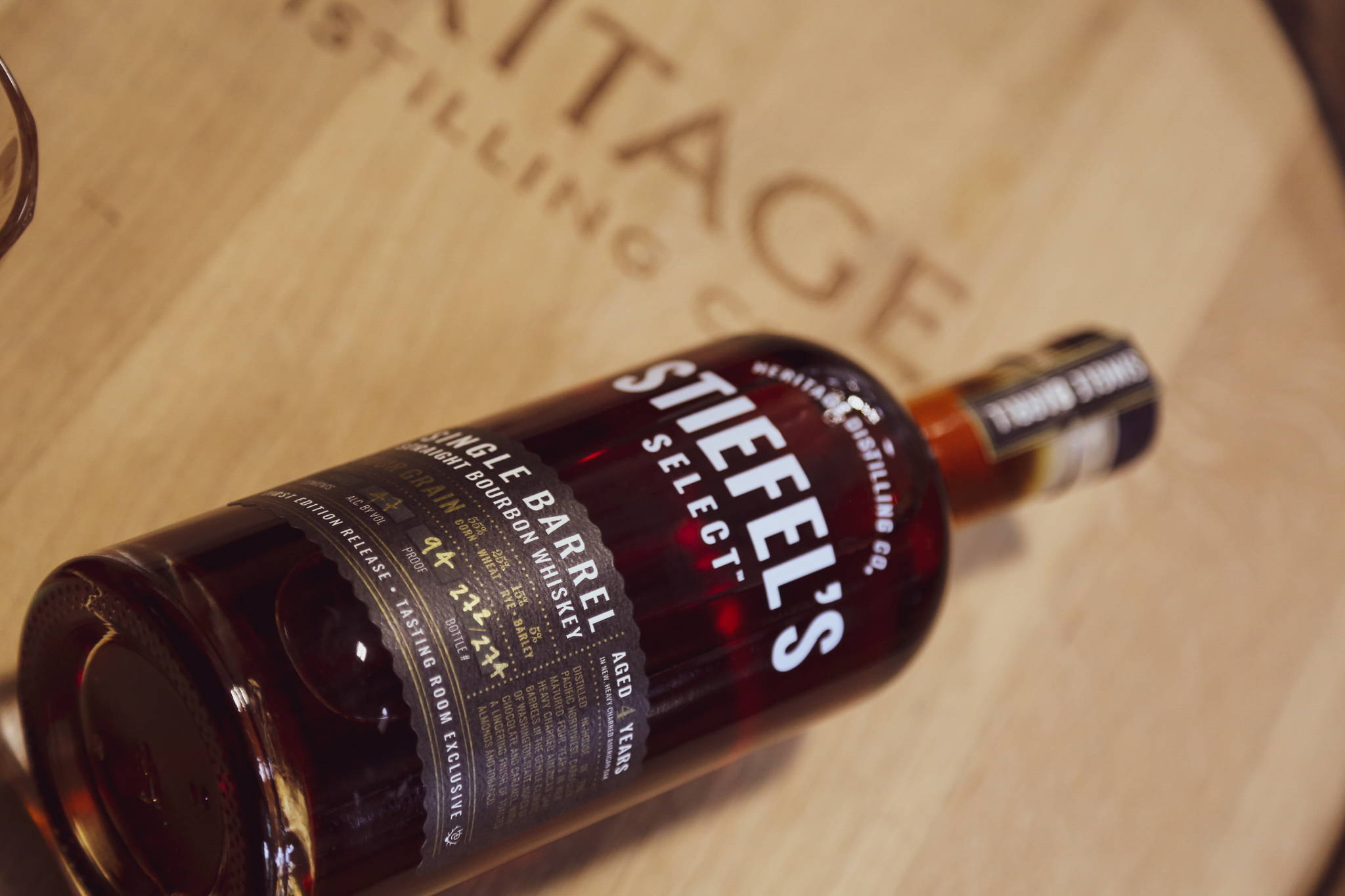 SOLD OUT!
Single Barrel Straight Bourbon Whiskey: Four Grain
FIRST EDITION RELEASE: TASTING ROOM EXCLUSIVE
As our CEO, Justin Stiefel and President, Jennifer Stiefel, tasted through the barrel selections put together by Master Distiller, Dain Grimmer and his team, there was a clear selection that came forward for the first barrel. The barrel contained a 4 grain, 4-year bourbon featuring grains all from Washington farms, corn from St. John, Washington, white wheat from the Scrupp's Family Farm in Odessa, malted barley from Washington and rye from MJW in Ritzville. 
This spirit was distilled in-house and carefully matured for over 4 years in new, heavy charred American Oak barrels in the ambient climate of Washington State. 
---
SPECIFICATIONS
Maturation: 4 years, 5 months
Grain Bill: corn, white wheat, rye, malted barley
Cask Type: New heavy charred American Oak
47% ABV 94 Proof  

Notes: Chocolate and caramel with a lingering finish of toasted almonds and tobacco.
Color: Burnished Copper 
Aroma: Toasted Oak, Vanilla, Piney, Citrus 
Taste: Dry, Sweet, Chocolate, Tobacco, Velvet, Nutty, Caramel
AVAILABILITY - SOLD OUT
Release Date: October 29, 2022
Total Bottled: 274
---
---
A DIFFERENT PATH
While most craft distilleries announce their intention to enter the exclusive whiskey space on opening day, we chose a different path: establish a top-level craft brand, and then tell the world about our whiskey once it is done. We didn't know how long it would take when we first set out because we took a different approach to making these whiskeys.

We examined the traditional whiskey making methods and asked questions about each step. Then we decided to create our own specific processes to gain as much control over the flavor of the spirit extracted from the grains. The result is a family of craft distilled whiskies unlike anything else. Something our founders are proud enough to put their names on.

---
GRAIN & MASH
Mash only hand selected grains using enzymes to control starch conversion.
Use minimal malted grains to allow more control over flavor of the underlying spirit; use only when trying to produce a specific malted flavor profile. 
Ferment on the grain to capture all the sugars and all the flavors trapped in the grain. 
DISTILLATION
Distill on the grain to capture all the flavor notes, taking only the best parts of the run and recycling the tails into the next.
Custom design the first ever Italian made distillation equipment in North America. Harnessing centuries of experience in creating some of the world's best alcohols, the Italian stills produce a unique and beautiful flavor profile while treating the spirits gently.
AGING
Age in custom made American oak barrels with specialty stave thicknesses and custom char levels.
Store the barrels in the Pacific Northwest under natural ambient conditions without temperature control. 
Finally, let the spirit tell you when it is ready to share itself with the world. 
---
---
---
LOOKING AHEAD
The Heritage Distilling Co. rickhouse now has whiskies ranging from 8 years old all the way down to just a few hours old. The recipes are a mix of traditional whiskeys - bourbons, rye, single malt - and some experimental and bespoke recipes, with the goal of unlocking something special. We are excited to continue expanding this series with unique single barrel and small batch offerings. Stay tuned for the latest releases!

---