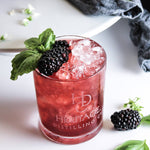 Blackberry Basil Smash
1.5 oz HDC Blood Orange Vodka
.5 oz lime juice
1 oz blackberry basil syrup
2 oz soda water
Pour over ice, stir and garnish with blackberry and basil leaves.
Blackberry basil syrup:
1 1/4 cups blackberries
1 bunch basil
5 oz honey
5 oz water
Blend berries and basil, strain into a saucepan, add honey and water. simmer on low heat to combine ingredients. cool before serving. enjoy for up to one week.
Thank you to the Tipsy Mule for creating this tasty treat!