---
---
heritage distilling co.
WHOLESALE/TRADE/Distribution
---
Each of the Heritage Distilling Co. product series were developed with a particular story in mind, because "Every Spirit has a Story"®.
View HDC product series and individual product sales sheets below.
Heritage Series - COMING SOON  |  AVAILABLE NATIONALLY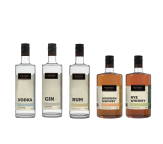 Heritage Vodka - Coming Soon
Heritage Gin - Coming Soon
Heritage Rum - Coming Soon
Heritage Bourbon - Coming Soon
Heritage Rye Whiskey - Coming Soon
Heritage Flavored Vodka Series  |  AVAILABLE NATIONALLY & IN SELECT MARKETS

Heritage Dual Barrel CollEction Series  |  AVAILABLE IN SELECT MARKETS
HERITAGE Elk Rider Series  |  AVAILABLE IN ALASKA, WASHINGTON & OREGON 
Heritage Batch no. 12 series  |  AVAILABLE IN ALASKA & WASHINGTON
Heritage Specialty Products  |  AVAILABLE IN SELECT MARKETS
---
---
For general sales related inquiries, please contact sales@heritagedistilling.com
---
Heritage Distilling Company, Inc. (HDC), opened to the public in Gig Harbor, Washington in 2012. It is one of the premier craft distilleries in the U.S and is the most-awarded craft distillery in North America for the past six years from the American Distilling Institute (2014, 2015, 2016, 2017, 2018 & 2019).
HDC currently has 6 distillery locations: 2 in Gig Harbor, Washington (#HDCFlagship and #HDCWaterfront), 1 in Eugene, Oregon (#HDCEugene), 1 in Roslyn, Washington (#HDCRoslyn) and our 2 newest locations in Seattle, Washington (#HDCBallard and #HDCCapitolHill).
HDC produces a range of whiskeys, vodkas, gins and rum. With distilleries and tasting rooms in six locations spanning two states as well as distribution in all 50 states and the District of Columbia, HDC is the largest independent craft distillery in Washington State by dollars generated, selling more 85,000 cases in 2018. Majority woman owned, HDC is adept at connecting with and contributing to the culture of craft spirits through multiple channels.
HDC's line of spirits include the Elk Rider series, the HDC series featuring more than 20 naturally flavored vodkas, the Batch No. 12 line of spirits and HDC's most popular product, BSB-Brown Sugar Bourbon. Along with its higher proof cousin, BSB-103 (bottled at 103 proof), BSB - Brown Sugar Bourbon is the fastest growing craft spirits brand in the region and was named World's Best Flavoured Whisky in London at the World Whiskies Awards in 2018 & 2019.
BSB is available via distribution by Southern Glazers Wine & Spirits and partners in all 50 states starting spring 2019.
---