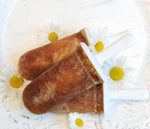 Summertime means beating the heat! Nothing will cool you down faster than this tasty, boozy, rootbeer, bourbon treat!
BSB Rootbeer Popsicles
2C Rootbeer
1/3C BSB Brown Sugar Bourbon
Squeeze of Lemon
Add all ingredients into a pitcher and stir thoroughly. Pour into popsicle molds and freeze for 8 hours. Run popsicle molds under warm water to release the popsicle and enjoy!!
---