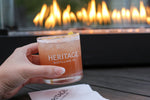 Whiskey Kiss Cocktail:

1 1/2 oz Dual Barrel Orange Bourbon
3/4 oz lemon juice
1/2 oz Raft Grenadine
3/4 oz Raft Simple Syrup
2 dashes Bitter Housewife Old Fashioned Bitters
Top with Fever-Tree Ginger Beer
Directions:
In a tumbler with ice, add all ingredients except ginger beer. Pour into a pint glass or shaker and then back into the tumbler to combine. Top with ginger beer and enjoy!